Events
Vaccine manufacturing during a global pandemic: what have we learnt? (Webinar)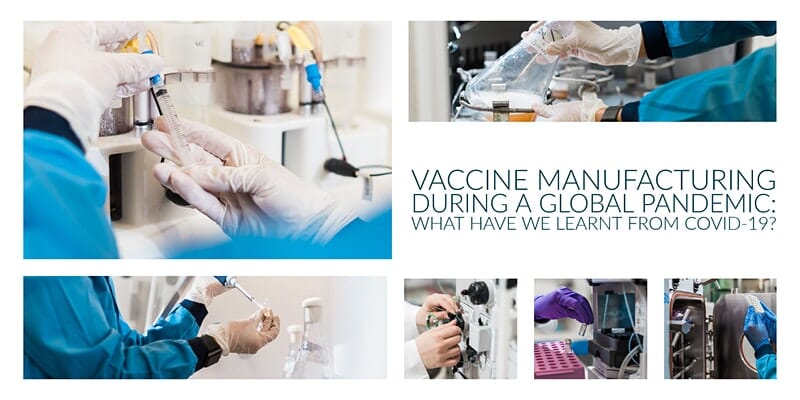 Join the UKVN's Vaccine Hubs to consider: Vaccine manufacturing during a global pandemic: what have we learnt from COVID-19?
Date: Thursday, 10 June 2021
About this event
During the COVID-19 pandemic, the role of vaccines as an essential tool towards global health security has never been clearer and vaccines are now offering a route out of the pandemic and prolonged period of lockdown in those parts of the world where they are widely available. In-line with the scale and impact of the COVID-19 pandemic, scientists, governments and pharmaceutical manufacturers have worked together to deliver the most accelerated timelines for discovery and licencing of a vaccine product in history. How was this achieved, what have we learned and what would we do differently next time?In this half-day event, the Department of Health and Social Care's UK Vaccine Network funded Future Vaccine Manufacturing Research Hubs, FVMR Hub and Vax-Hub, are pleased to invite you to explore the role of academia in vaccine manufacturing research innovation, contribute to the discussion about the UK's positioning in global health research and international development, and reflect on the lessons learnt from the COVID-19 pandemic to shape future research in this area.Questions that we are seeking to address during the event include:
How has progress (e.g. in vaccine platform technologies) influenced the development of vaccines? To what extent have pandemic preparedness strategies supported the development of a vaccine?
What role does local vaccine manufacturing capacity play in equitable access to vaccines and can long-term availability and supply of vaccines be improved by investing in additional local production capacity in Low and Middle Income Countries?
What role does UK-based vaccine manufacturing research play in ensuring global health security against future pandemics and how can we strengthen our capacity and contribution?
Confirmed speakers:
Steve Bagshaw (Vaccines Taskforce Programme, BEIS)
Sarah Gilbert (University of Oxford, Vax-Hub)
Robin Shattock (Imperial College London, FVMR Hub)
Jicui Dong (WHO)
Matthew Duchars (VMIC)
Mike Whelan (CEPI), among others
The event will aim to explore the crucial theme of better pandemic preparedness by reflecting on what we have learnt so far and discuss with the major stakeholders the mechanisms for achieving this through collaborations, research innovations and capacity building through knowledge exchange training and technology transfer.
Click
here
to register for this event.