'A Biomanufacturing Career – A Skills and Training Perspective'
Gareth Berry, Senior Scientist at Pharmaron Gene Therapy, Liverpool, provides an insight into his career journey in the advanced therapies sector, and how skills and training plays a pivotal role in helping the sector grow.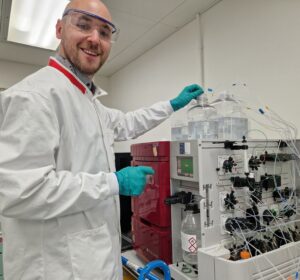 Have you always had an interest in biology?
Yes, I completed my first degree in Biology at the University of York and followed that with my first role in industry, in a quality assurance and regulatory function for a pharmaceutical company involved in generics. However, I decided I wanted to be more lab focused, so I went back to University and gained a Masters in Biomedical Science.
What was your first 'biomanufacturing role?
After my Master's, I secured a QC microbiology role with a flu-vaccine manufacturing organisation. After developing my experience in QC, I transitioned over to manufacturing where I was involved with downstream research and development. With flu-vaccine manufacture there is a seasonal cycle to operations, and the R&D team need to ensure there are enough candidate strains for manufacture. Out of season the R&D team run process development and pilot scale feasibility studies to improve overall efficiency.
How does your current role with Pharmaron, Liverpool compare with your previous roles?
As a Downstream Senior Scientist, I'm responsible for leading the technical aspects of client projects, and working on various internal, innovation projects. For client projects – I lead a team of process development scientists where we optimise our downstream purification platform around the client's product to achieve a high quality end result.  It's a fast-paced role that requires a high level of organisation and adaptability.
What is it about your previous experience that enhances your Senior Scientist role?
Having previous hands-on, industry experience has been really advantageous, it gives you the confidence to get into a lab and run your own experiments and run your own projects. Now I can really appreciate and predict the challenges that I might face within a day and mitigate those challenges before they happen.
Currently, the C&GT sector is dealing with a 'Skills' gap. What's your experience of this and how are Pharmaron addressing this challenge?
Graduates coming out of university often do not have a focused skill set for biotechnology and they have little experience with downstream processing, let alone within the gene therapy space! The equipment is often too expensive to feature in university courses so that's entirely understandable. Pharmaron support new staff by providing a mixture of formalized training during the induction process whilst also leveraging a buddy partnership with a more experienced staff member who trains them in the lab in specific techniques and skills required for their role.  With ambitious growth plans for the CGT sector, the 'skills' gap is important to Pharmaron and we offer industrial placements to students and have many technical apprenticeship roles to help provide students with invaluable experience and prepare both them and ourselves for the future.
What do you see as the role of the UK's biomanufacturing training facilities such as the C&GTC Skills Training Laboratories in Stevenage, and the National Training Centres; National Horizon Centre – Darlington, RoislinCT – Edinburgh and the University of Birmingham?
Companies such as ours are always very busy and accessing process and analytical equipment for training when it might also be needed for priority client project can be a logistical challenge. Such training facilities excel in relieving the pressure on these pinch-points, delivering the exact skills required to fill the industry's skills gap, and of course it's always valuable to gain insights from outside of our organisation.   Some of our technical experts deliver training at these centres and this is a valuable experience for them.
Finally, are there any particular skills training topics that you would like the UK's biomanufacturing training facilities to address?
Modern biomanufacturing and analytical processes generate a lot of data – so the ability to obtain quick and accurate data analysis is very important. As such, more understanding in methods of high throughput development, such as mechanistic modelling, along with training in the application of Process Analytical Technology would be beneficial. Training on different software such as JMP, and Graph Pad would be really advantageous, too.
Pharmaron's Gene Therapy Contract Development and Manufacturing Organisation (CDMO) is dedicated to viral vector development and clinical manufacture from its state-of-the-art facilities located in Liverpool, UK.  The 80,000 ft2 facility supports their customers with cGMP gene therapy and plasmid development & manufacturing, process, advanced analytics and characterisation.